Have you ever wondered what a royal medieval inspired wedding could look like?
Well, look no further! This editorial takes us back in time and presents the most luxurious and royal wedding setting only fit for kings and queens. You can find this post on Wedding Chicks here:
Lush details carefully curated by Soo Events and lavish flatware handpicked by White Lilac create the most opulent dining setting for your guests.
This styled shoot reminds us of a time of prosperity highlighted by the gold cutlery and forged glasses as well as the luscious velvet tablecloth gracefully covering the dinner table. The vibrant autumnal colors in the table centerpieces put together by Studio 7 let us take a glimpse to a wedding feast of another era.
Nasioutzik Museum Estate provided the perfect backdrop for this editorial with its stoned building and heavy doors with discreet wooden details that reminisce of the medieval times. The wooden chairs accentuate the details from the venue's architecture at the table setting as do the wooden details on the table like this charming little wooden horse hidden among cutlery. It really feels like your throne is awaiting to welcome you in this magical castle like setting.
Wild greenery and intense dark colors are combined to these beautiful floral arrangements where bright orange and yellow tones seem to escape and bring light to the compositions. It is always a nice and practical idea of tie in the colors of flowers to the table arrangements. Hence, vivid colors were used to the candlesticks and to the napkin ribbons. Each guest is treated to a mistletoe branch as a symbol of happiness and wealth.
Keeping it simple yet deliciously decadent, this tiered wedding cake in the same blue colors is a heavenly creation by Pavlov's Lab. This sweet table proves that incorporating tradition to a modern twist is a chance you have to take.
The bride's ethereal pale blue wedding dress by Dimitri Petrou is fit to this true fairytale setting. And what better way to complete this look than an actual crown? Talk about class and making a bold statement and you can find it in this wedding look. Our groom stands besides his bride in his elegant suit from Christakis. The perfect couple is a power couple.
Have a look at this dreamy styled shoot and get inspired by the colors and aura of a greater time.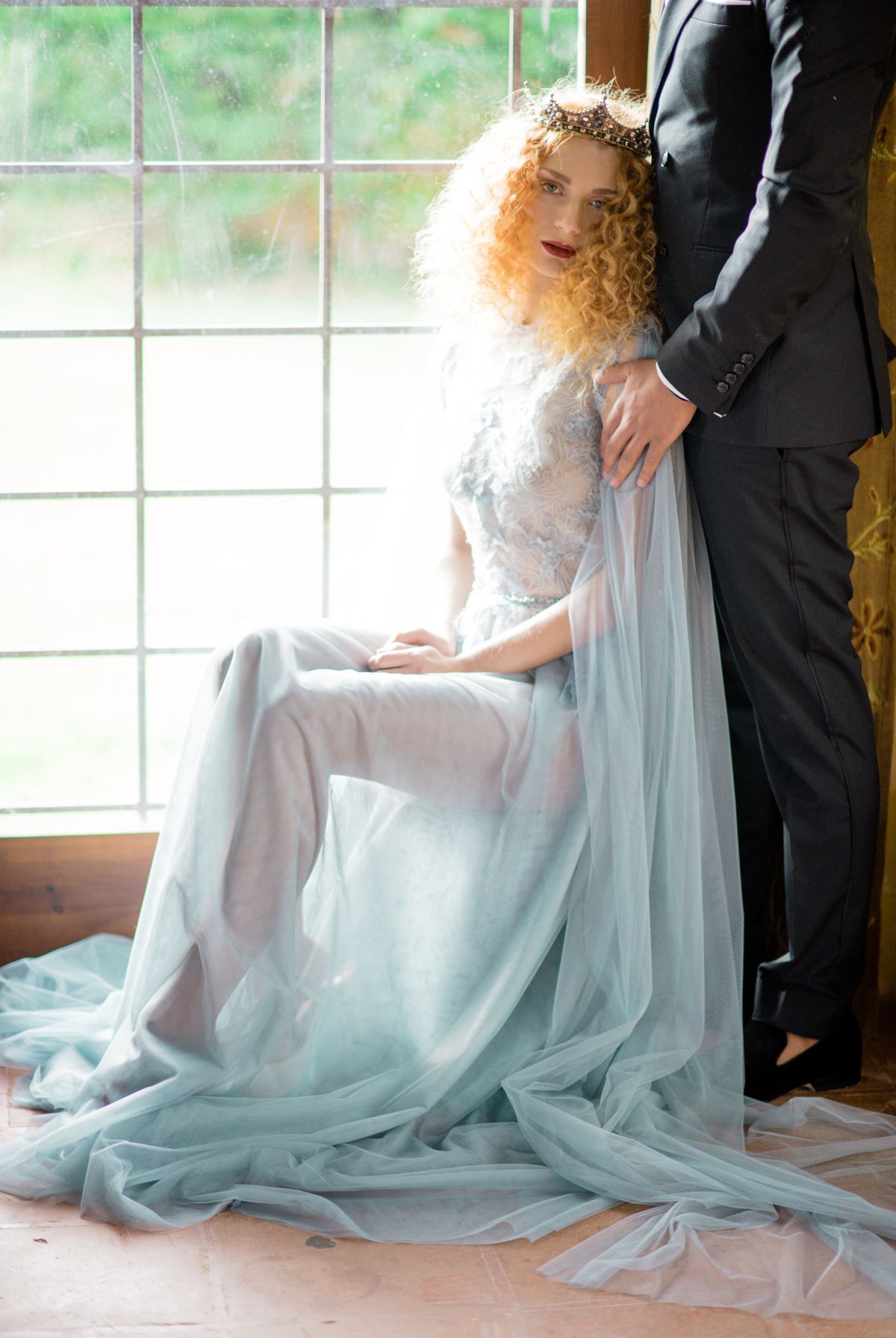 tags